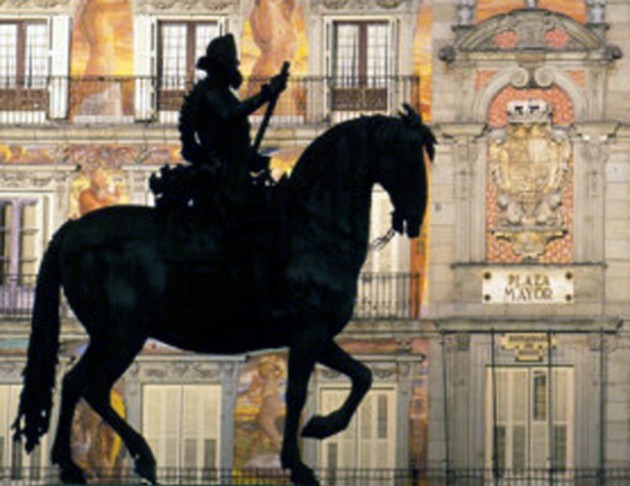 17 Aug 1985, Posted by Scott An Chora in Travelogue, No Comments.
I woke up in the middle of a desert of reddish clay painted orange by the rising sun.  As the ride wore on the sun converted our compartment from a cozy bed into practically an oven.  Each hill looked the same as the one before it rolling one after another past my window.  If one didn't know any better it could be assumed that my window was the backdrop to a movie set.  When we reached Madrid we took a route along one of the broader boulevards, its edges painted with numerous café canopies.  I walked for about an hour until I located the right place to eat.  I had to be a little more selective when I'm combining dining and writing.  I like place where I can relax, with enough room to eat and write, out of the sun but with good visibility of the foot traffic.
Once the bottle of wine kicked in we set off and explored the city.  The subway was a real adventure.  There was a pole about head high that ran down the middle of the train.  What made this an e-ticket ride were the large gaps between rails that kept everybody moving from side to side.  On the way back to fetch our bags Jim began complaining about his feet again and took that as an opportunity to escape the heat and read the novel he had been carrying.  Somebody had to locate a room for the night so I headed back into the city alone.  Jim got all bent out of shape at the price of the room I selected, like sitting on his ass in the train station made him an expert on Madrid's accommodation market.  "If you don't like the arrangement you're on your own"  I stated while handing him the travel guide containing the addresses of Madrid's hotels.  Price was a major consideration but conveyance was also a priority.  If I was only going to be there for a short time I didn't want to waste my time getting to and from what I planned on seeing.  The place I chose was close to nice restaurants and places where the evening would bloom and was not far from the place I planned on visiting.  Once we settled in the room Jim fell asleep, reading can be so tiring.  I on the other hand sought out some night life.  I wandered the city's arteries, Paseo del la Casteliana, Paseo de Recoletos and Paseo del Prado.  Those open-air terraces abounded with young ladies and I stayed all night.  On my walk back I thought to myself "Doesn't anybody sleep here?"  There was a traffic jam at four in the morning.  I lay down in an attempt to lose my head spins but I could still see the lights flashing.  Even though I probably slept a couple of hours it felt as if only minutes had passed.  I was still tired but that day was earmarked with a lot to see in a relatively short time.  I checked out both the Museum, the Royal Palace and still jetted out before night fell.
Promote Post
Enjoyed this post?