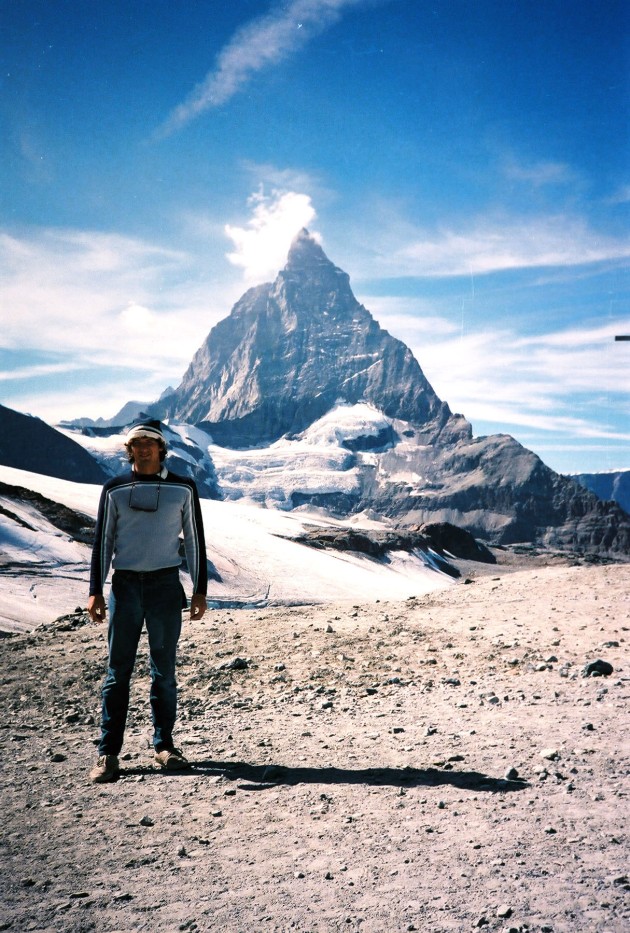 17 Sep 1985, Posted by Scott An Chora in Travelogue, No Comments.
I was up in the early hours staring out my window at the full moon and the Matterhorn bathing in its light.  I had awakened drained, partly hung over and in need of food.  But it was Sunday and on Sunday nothing was open.  I obtained just a cup of coffee and a bit of cheese, which was hardly enough to provide any additional strength.  Well here I go, one ski lift to another and the valley below disappeared in the distance.  I guess you could say I was kind of a novelty being a first time skier and the group was set on taking me to the top of the mountain.  This required a group effort and without that effort I wouldn't have made it on my own.  They had spaced themselves out about every four or five t-bars.  I concentrated on trying to keep my skies parallel but each time I got comfortable and demonstrated some confidence one ski would follow a rut in the snow and I would end up on my butt, again.  I quickly got back on my feet and waddled over to be picked up by the next volunteer.  I think I ended on my butt about five times before I reached the top.
What in the hell was I thinking?  It was as if I was standing on top of an elevator shaft looking down.  Oh but standing right beside me was this beautiful young lady with no hesitation in her eyes, smiling at me.  It was obvious that I had only one choice and that was to head down this mountain.  I grew up with a skateboard in my hand so I didn't see myself having any difficult in keeping my balance.  I kept my skies parallel and with my knees bent to keep my balance I even picked up more speed.  I was absolutely flying and had no idea of how to stop.  I kept reminding myself over and over, stay away from the right side.  Although the signs were blurred I could still make out the skull and crossbones warning of the potential danger.  Before I took my second breath I was closing in on another group of skiers that had left minutes before I did.  I knew I needed to choose an area to lay myself down and I knew it was not going to be pretty.  I left a hundred yard scar in the snow behind me which made it easy for my group to locate my body.  I surprised the entire group when I jumped back up on my feet.  I told the group that there was no way I would sit still like a bowling pin for the next crazy person coming down that mountain.  I was getting pretty good at falling down, but every time I was lying in the snow the face of an angel would be hovering over me to return my sunglasses.  That was above and beyond anything I read in the brochure.  Eventually I traded in the high speed demonstration on the best way to break a leg for a lounge chair and a beer.  Actually once things flattened out a bit I started getting the hang of it.  I was told that snow is much easier to ski.  I'm sure my body would have appreciated snow.  I sat down to a beer and the opportunity to check out the gathering bunnies.  After a couple of beers the group wanted to go down one more run before the day ended, but at that point my body was tightening up and there was no way I would put my dice back on that table.  They explained to me the way back to the viewing tower and I was on my own.
When I came around the last bend I could see the lookout tower.  That was the place where non-skiing tourist would came to view the Matterhorn up close.  I was standing atop the last slope which was at a very steep angle, 45 degrees, all ice with water running down in streams on both sides and it ended about three quarters of the way down into exposed rocks.  That was not good.  I hadn't yet mastered the art of stopping, so there was no way I was going to risk skiing down it.  So for over a hundred yards I swallowed my pride and walked down edge to edge.  I must have fallen at least thirty times.  That was the most embarrassing moment of my entire life.  I was cold, wet, bruised and humiliated.  I snuck into the hostel early to shower and remained undetected to avoid paying for another night.  I gathered up my belongings, checked in the ski gear and escaped on the first train out.
The train to Visp this time traveled through the darkness of the approaching valley.  Then I took another train into Brig and another to Burn.  On the train into Burn I met a young lady who put down her knitting to keep me company.  I was standing at a crossroad and needed to decide what my next steps were going to be, where I would go next.  I was considering heading into the Black Forrest or north into France so I took out a train schedule and searched out the most accommodating train that would allow me to get a fair night's sleep.  I decided to wake up in Paris.  I couldn't begin to explain how sore my body was.  I could hardly make the walk into Burn for a bite to eat.  Even though I arrived early to get a good seat on the night train into Paris, every compartment was filled and provided me very little if any room to stretch my legs.  I chose to share a compartment with five girls.  After about an hour of sitting there I just couldn't take it any longer.  I told them the story of my ski adventure to lead into my reasoning why I going to lay myself down on the floor of the compartment.  "Please try your best not to step on me."
When one of the five young ladies left one of the girls suggested that if I got off the floor I could lie down on the seat next to her and place my head on her lap. Seemed like good enough offer.  She was sweet and I once I got conformable I fell into a deep sleep.  I was exhausted.  Eventually the two of us had one whole side of the compartment to ourselves.  Later I discovered that she was from Newcastle England and was heading home from holiday.  When we reached Paris I noticed that she was sporting a few too many bags so I went out of my way help her trek her bags across the city to her next train.  We shared breakfast across from the station.  It was a good spot for me to kick around in after she boarded her train for home.  I had an extra hour to burn until my train was scheduled to leave so I sat around and caught up on my journal.  I had decided to head west to Rouen to see its cathedral. Walking in Monet's footsteps.
Promote Post
Enjoyed this post?