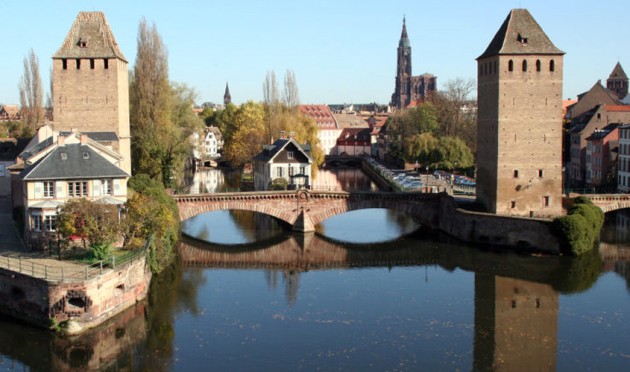 29 Sep 1985, Posted by Scott An Chora in Travelogue, No Comments.
I stopped in Karlsuhe for something to eat and decided to head through Offerberg and then into Strasborg for a day or two.  I had had four consecutive days of good weather and today was no different.  The water just smiled back with the reflection of the autumn leaves.  I loved the way the city was broken into pieces by the water.  At the end of every one of my wanderings I ended up strolling upon lovers in the act of romance, which reminded me again I was alone.  I eventually located the ideal spot alongside a grassy hill and under the warm sun took a nap.  Sometimes day dreams continue after sleep.  I sketched out a lot of notes that day.  There's a lot to be said for the environmental influence of certain locations.  I have begun discarding unfinished poems and notes into the garbage.  Mary Jane may be a muse at times and there are a lot of "What was I thinking? or perhaps "Did I read this someplace else?
Leaves of autumn, burning through the gray, your leaves, that reluctant branches stray
how many seasons, has this tamed heart known, the bright leaves, lying where the flowers grown
this world grows cold, as crystal and as clear, as a leaf, in season falls this year
I got into an interesting conversation with a young lady while heading back into Germany.  I enjoy conversations where all are willing to expose weaknesses and to share personal details, especially when those conversations included an attractive young lady.  That conversation earned me a goodbye kiss.
Promote Post
Enjoyed this post?