02 Nov 1985, Posted by Scott An Chora in Travelogue, No Comments.
One of the secrets learned while traveling is the advantage that can be gained by finding that right taxi cab driver.  Once I have selected my chaperone for the day I inquire about his business, ask a few questions to ensure he had the right personality, then I'd ask him to explain the best day he's had in the taxi business.  "I once made twenty dollars".  Then Id's offer him twenty five to more depending on the economy.  Taxi drivers know their way around, where to go and what to see.  When it comes time to eat invite the driver to join you or your group and pick up his tab.  Now he's starting to look out for your interests.  You could avoid a lot of wasted time trying to get to and from place if somebody waiting for you.  Remember don't leave your possessions with him unchaperoned.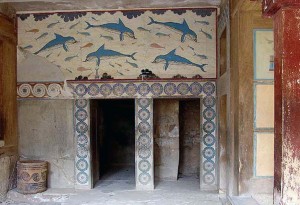 Today's taxi driver was quite the character and a lucky find.  He knew the area very well and was more than willing to show the backside of sights.  I noticed that our driver would give the sign of the cross every half mile or so, when we past small religious shrines alongside the road.  "So go to the river, trace its fountains head, plunge yourself and body in and wash away your faults and its punishments."  We had left the majority of our gear in the trunk of the taxi.  We set off to roam the Minoans palace and when we returned our taxi was nowhere to be found.  Panic swept through the group, especially the girls.  They were sure we'd never see him again.  It turned out that he thought we'd take a little longer than we did and took this opportunity to pick up some eggs, an item on his honey-to-do-list.  We were stupid to put ourselves in that situation because it could have easily tuned out for the worst. It was a good lesson for the group.
We needed to obtain a ferry schedule of ships leaving the island so when we reached Irrackea, besides food we sought out the tourist office.  We wandered about the city, grabbed a bite to eat and then headed toward that famed black beach.  When we reached that black beach we wandered about seeking a room for the night.  Not one of us was willing to concede to their outrageous prices.  They wanted like nine times what we were paying for rooms in Malata.  So we proceeded down to the restaurants for a meal to discuss our options.  The table we sat at was in the domain of feline predators, seriously.  Those cats were so aggressive I actually held the pepper shaker in one hand and I used it to demand space.  The food they brought was really bad.  So bad not one of us had the stomach to digest a single bite, so we fed the local cats.  There were so many cat's that we thought the meat might be the last dog from the area.  Elspeth's had told us stories of her family always illustrating the wealth she had come from and she mentioned on more than one occasion that she had horses back home.  Our two Canadian friends couldn't resist teasing Elspeth and kept on insisting they knew it was horse meat.  Well, we were all still hungry and all we could purchase from the local grocery were chestnuts and a couple of bottles of vodka.  We decided to sleep the night on the beach and build ourselves a fire but when we searched for wood there was not a single piece to be found.  Alongside one hill we did managed to find a few branches that were dry enough to use a kindling and a fallen telephone pole.  We gathered up all we could find and modified our fire pit to accommodate a pole. The fire managed to keep us warm but the chestnuts were sometimes difficult to remove without burning one's fingers.  The darkness eventually fell around us separating us from the rest of the world.  The beach was nothing to brag about but the stars that night were spectacular and demanded our attention.
When we reached a low point in a conversation Dave would introduce riddles to the group, supposable true stories.  The goal was to reconstruct the event by only asking questions that could be responded with a yes, no, or does not apply response.  His first riddle to the group was: "A man walks into a bar, wanders up toward the bartender and asked for a glass of water.  The bartender reaches below the bar and pulls out a gun, pointing at the head of the man who had asked for the water.  The thirsty man replied with a "thank you" and then exited the bar …….."  That struck a cord with the group and Dave stuck to his guns and wouldn't give us an inch.  We would gather information, change the subject but eventually someone would ask another question and we would all get going again.  His second riddle ended up taking a few days for us to solve, it went something like this.  "There was a port attached to a small seaside community.  One evening a boat was towed in with broken mast and once it was securing tied to the dock a few sailors disembarked.  They walked directly to the first restaurant in sight.  One man sat down at an available table.  When the waiter approached and asked if he would like to see a menu, the man replied, "Do you serve Albatross?"  The waiter gestured that they did.  "Please bring me a plate of Albatross" asked the sailor.  When the meal was brought to him, he cut off a small piece and began to chew it.  He suddenly pulled out a gun he had been concealing in his pocket and shot himself in the head ….."
Promote Post
Enjoyed this post?