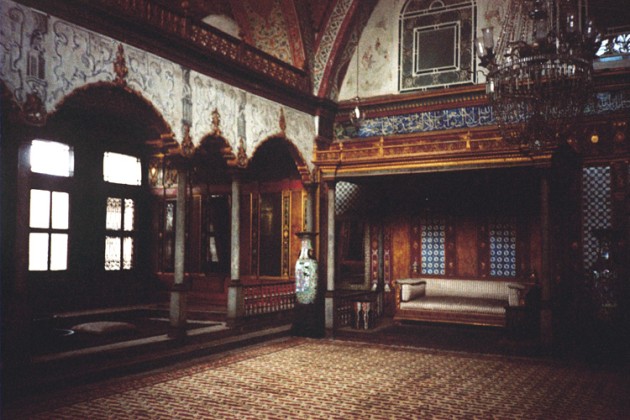 02 Dec 1985, Posted by Scott An Chora in Travelogue, No Comments.
We continued munching on nuts up to the entrance to the Topkapi Palace, the heart of the Ottoman Empire.  I naturally avoided the circumcision room.  I was very impressed with the jewels on display.  The sultan's armor had diamonds and emeralds the size of baseballs.  I have a lot of respect for somebody who can step on battle field with jewelry of that value and not get raped.  We crammed a lot into one day and I was dead on my feet so we didn't wander far from our hotel to find food.  We joined a few others that we had met in the hotel, drank some alcohol and talked a bit but eventually I crawled off to bed early.  Jenni stayed out late and slept in.  I on the other hand hit the streets at first light.  Any time it was too cold, I knew all I had to do was pretend to be interested in buying a rug and that would lead to a warm room and a hot cup of tea.  Later I met up with Jenni and we wandered alongside the Hippodrome and spent the day roaming the Kapali Carsi or grand bazaar.  Colonnaded galleries and calligraphy-covered high walls, from one peddler to another.  When you're on the road, shopping is more a look but not buy exercise but every so often I would see something and debate if I should send it home.  There was a beautiful large water pipe that had caught my eye and was reasonably priced but in order to get it home there was the secondary cost of shipping.  No thanks.  We ended up that evening around the golden horn, checking out the clubs and dined more upscale than the previous nights.  On the way back we picked up a pair of train tickets for a late night train into Athens.  On the way to pick up our bags we stopped for a drink in the previous night's hang out before we departed.  What a small world.  The same five gentlemen that we last saw from the rear window of our taxi came wandering in.  We passed around a few drinks and traded stories until it was time for us to head for the train station.  Our lucky travel angels had been watching over us.  They had been granting us good weather everywhere we went.  It only snowed when we were on a bus between locations.  When we approached the train station it began to rain.  "If it's going to rain, put me on a train."
We boarded the train and ended up in a compartment across from a young married couple.   Without asking I assumed they were newlyweds.  She was heading out and he was stationed there with the American military.  While they were saying their goodbyes a Turkish military officer entered our compartment and began to make a pass at his wife.  Her husband had no idea how to react and just told the officer that she was his wife, hoping that he would respect their relationship.  The officer ignored his comments and proceeded to come on to her.  I stood up and removed his hand from her blouse.  He stood there staring at me and while he was deciding on what action to take his walky-talky went off.  It was another officer requesting something.  Then over the loud speaker they announced that the train was departing, all aboard.  Those two occurrences derailed any reaction and the officer quickly hopped off the train.  The young woman's husband kissed her and did the same.  Both guys were standing on the platform next to one another as the train pulled out.  I could see the relief in his eyes knowing that his wife wouldn't be traveling alone.
When you go, away from me and dream of things, you long to be
I'll be there, to hold you tight, to keep you safe, throughout the night

So when you go, to sleep, my dear, leave behind, your world and fears
and dream of things, you long to be, when you go, away from me
When we reached the Greek boarder two overweight Greek women accompanied by a small elderly gentleman squeezed into our compartment.  Since they paid local taxes they acted as if that train was their own personal property.  They were smoking like chimneys alongside the non-smoking sign and discarded trash wherever they saw fit.  On a couple occasions I saw the larger of the two women spit on the floor.  When the conductor entered requesting tickets, to put it in as few words as possible, a hell of an argument broke out.  They refused to stop smoking, wouldn't pay for the train ride and were yelling as loud as they could without losing a lung.  This was all happening conveniently at around two in the morning.  Customs followed up behind and confiscated passports, ours included.  If that train wasn't absolutely packed and our passports weren't confiscated we would have picked up and moved to another compartment.  In hind sight we should have just moved out into the corridor.  Those were the poster mothers for the word "Assholes, large assholes" in the Greek dictionary.  The train sat there for some time and when it finally pulled out I hadn't been given any reassurance that our passports were still on the train, raising some concern.  The colors of the landscape changed as the sun came up.  I didn't get any sleep and spent most of the time gazing through the window.  The frail gentleman and the two fat ladies had fallen asleep.  Talk about the temptation of payback.
We considered ourselves lucky that we didn't have to wait until eleven before we could get into a room, an advantage of the off season.  Everything with the exception of what I was wearing went directly into the tub for cleaning.  Our room looked like a Laundromat that had experienced a tornado.  We had wet clothes hanging from every available object in the room.  Our main reason for stopping in Athens was to pick up Jenni's mail.  Jenni had a P.O. Box set up by her parents that was full of good news and a early birthday cards.  Her grandparents had sent a pair of US hundred dollar bills and from that moment she began contemplating how she would spend it.  I wanted to spend Christmas in Jerusalem but my money was running thin.  I had no rail pass and still needed to pay for my way to the airport and a plane ticket home, so I began a dialog with Jenni about possibly borrowing some money until we reached Amsterdam.
Promote Post
Enjoyed this post?