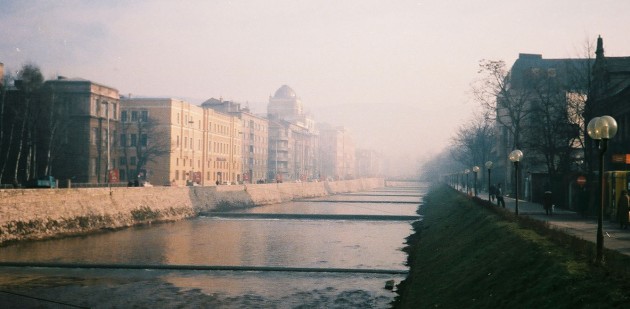 03 Dec 1985, Posted by Scott An Chora in Travelogue, No Comments.
I was told I still had family in Belgrade.  My grandmother had given me addresses of relatives so at one point I considered visiting, but the negative idea of just showing up on somebody's doorstep crept in.  I ran it by Jenni.  She didn't have any plans of her own and kind of reluctantly agreed to follow, as long as we were heading north.  We spent the rest of the day seeing some of the sights and roaming the streets.  The one thing I didn't want to do was to visit another museum.  I knew of some excellent places to eat and while we were heading to that part of the city I ran into Mr. McCartney again.  He recognized me right off the bat.  We shook hands and I apologized again for Tony's aggression.  "He scared the hell out of me" "That was one big guy and I thought he would hurt me" he stated while recalling his fear.  Mr. McCartney owned the restaurant he was standing in front of and invited Jenni and myself to join him for a meal.  If I just hadn't involved Tony things would have turned out a lot different.  "My fault, perhaps you would have gotten lucky".  He smiled as if to say of course.  We had a nice long conversation alongside the boulevard before we jetted across town to assemble our dry clothes.  We snuck out the back way and boarded a train bound for Yugoslavia.
We had met three young men on the train that were also traveling from Turkey into Yugoslavia.  During our conversation one of the gentlemen asked if we would help them smuggle leather jackets across the border.  Apparently since they were citizens of Yugoslavia they would be required to pay a substantial tax for brining in apparel to the country.  I told the Customs Officer that I had bought them as Christmas gifts for my family and I didn't trust sending them through the Turkish post, that I preferred Belgrade.  That lie got me a smile and a nod.  There was something about Belgrade I didn't like from the moment I stepped off the train.  When I finally located an available toilet my initial feelings were reinforced.  The food was terrible and should have been avoided.  The view of the smog that hovered over the Danube convinced us that we should move on.  Before we left I wanted to walk by the Russian Embassy since I was told that it used to be my ancestor's home.  We stopped off at the train station and procured tickets for an express train into Sarajevo.  It was scheduled to arrive early that evening which gave us more than enough time to locate a place to sleep.  We passed a cobbler's shop up an adjacent road where there was a pair of sandals displayed in its window.  Jenni on the spot fell in love with them but when she knocked on the door nobody came.  We walked about Kalemegdan Park and cruised through a few of the local sights burning time until our train was to depart.  Just prior to our train leaving we stopped by the cobbler's shop one last time.  Jenni knocked a few more times and eventually an elderly gentleman came to the door.  Jenni explained that she had a train to catch, would not be returning to Belgrade and was interested in buying the sandals in the window.  He gave her some weird look, said something like, "Go away" and closed the door in Jenni's face.  For hours she wined and wore her sad face all evening.  We got on "The Olympic Express", first class all the way.  I just wished they would have stopped playing that elevator music.  After about an hour or so an announcement came over the loud speaker "Due to extreme snow, the pass over mountains is now closed".  I understood we were then going to go around the mountain and I could tell by the look on the faces of the other passengers that it would take some time.  We asked the conductor in passing when we would arrive.  "Somewhere around two or three in the morning we'll be pulling into Sarajevo".
Promote Post
Enjoyed this post?