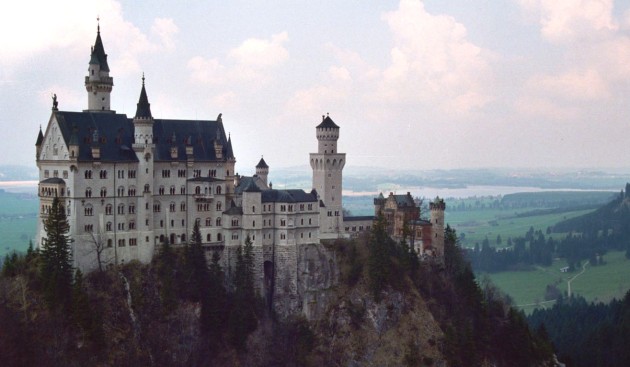 30 Jul 1985, Posted by Scott An Chora in Travelogue, No Comments.
I was intrigued with the works of Escher and understood there was an exhibit in the Hage, so I persuaded Jim to board a late train out of Luxembourg.  We arrived in to Rotterdam even later.  There didn't seem to be anybody but the two of us, the streets were virtually empty.  We wandered toward the lights advertising vacancies and pounded on doors until one finally opened.  The price the gentlemen in pajamas requested was outrageous.  I think he wanted us to just go away.  We continued demanding his attention, while we explained that we were only going to be there for a few hours, until light and then would be on our way.  He ended up cutting his original price in half.  Not because we posed a convincing argument but because he just wanted to get back to sleep.  As promised we were on the road early and found ourselves staring at a pond in front of the museum, hours before the doors opened.  A family of ducks exploring their small world for the first time captivated my attention and helped pass the time.
Unchanged by distortions and does not tear, reflecting its own landscape.  Escher's works jars me out of my own perceptual habits and challenges me to look with fresh eyes, rewarding my prolonged stare.
From Utrecht through Essan to Dusseldorf, back into Germany to see if the rain had stopped.  It seemed every time I stepped on German soil the clouds gathered over my head and I got wet.  This trip was no different.  We arrived into Koln where I spent the first part of the day queuing in the church, then took a brisk walk across town to the local hostel.  I loved the walk across the bridge and the view from the river, but out there it was impossible to stay dry.  Everybody in the hostel that crossed our path seemed to have a chip on their shoulder.  Jim and I kinda hid off in the trees and drank by ourselves.  Later that evening I wandered off across the bridge and found a small coffee shop where I could relax and catch up on my journal.  An older gentleman approached, curious as to what I was writing about.  He kept repeating his perspective on aging and how he was envious of the paths I chose.  "When you're my age, you'll look back on these days and realize these were the times of your life".
I'll remember the man, who realized that time, was running away, right out of prime
I'll remember the man, who spent time, was willing to say, a man's half a man, until he's has his day
Promote Post
Enjoyed this post?