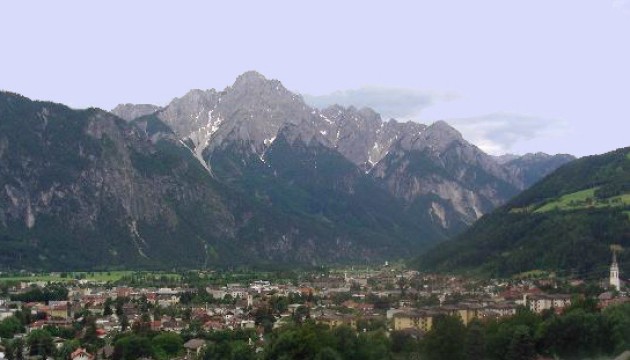 06 Aug 1985, Posted by Scott An Chora in Travelogue, No Comments.
In front of the morning sun we departed toward Lienz.  We were lucky to have the company of a pair of young ladies traveling in the same direction.  An interesting conversation made the time disappear and before we knew it our train had come to a stop.  I needed to exchange some traveler's check for cash and explained to Jim and the two girls that I would be a few minutes inside the bank.  Once I exited the bank the three had vanished.  I spent well over an hour checking one shop after another, up and down just about every street.  Eventually I did find them on the other side of town.  Jim was making moves on one of the young ladies and it appeared that the distance traveled was the result of her attempting to escape.  We weren't scheduled for a long stop here so I was perturbed we were wasting time.  I decided to go trekking on my own today and set a time to meet up with Jim at the station prior to departure.
I took the local cable car to the top of the mountain and then wandered through the countryside back into Lienz.  What it must have been like to trek over these mountains centuries ago.  This was a beautiful valley.  I came upon an old man carving wood figures.  I stood there and watch the techniques of a true master.  It shows what talents that be achieved with time, and with ease he created details that would have taken others hours.  Occasionally he would glance up at me with confident eyes and a smile as I hovered.  I continued down the mountain and settled to a cup of tea alongside the square, minutes before our train departed.  Jim also boarded but I avoided any conversation and kept to my journal.
As the Inn River narrows and makes its way through the city of Innsbruck and became an unforgiving river of speed.  From one of its many bridges we gazed at the patterns the water made on its journey through the city.  A pair of young British girls approached and inquired if we knew the way to the hostel.  After spending a short time in their company I came to believe they both had to be related to Benny Hill.  British humor would accompany every other sentence and if no one else could catch up it was still funny to them and that was funny in itself.  In the interest of securing the same bed for consecutive days, we paid for two days in advance.  After settling in and wandering the streets we settled on a Chinese restaurant overlooking one of the main boulevards.  The owner of the establishment explained he was also from California and provided us with a few free appetizers.  Outside the window next to our table we could view the festivities below.  About halfway through the main course the rain began to drown out the music from the street.  The rain continued throughout the evening and into the morning.  Since the weather had not changed I requested a refund on tonight's accommodation and headed out in search for better weather.  In my pocket I still had the choir's schedule and we decided to attend a performance scheduled in Burn Switzerland.  It was just as easy to travel south through Italy and then up past Lake Lugano as it would be to trek through the northern Alps of Austria again.  We assumed traveling south would give us warmer weather and better wine to travel by.
As we reached Bolzano the clouds lost their struggle against the sun and the horizon began to show it's orange.  When we reached the Italian border a pair of border guards detained Jim due to his namesake.  They carried with them a historical list of individuals that skipped out on their military duty.  It was obvious that they enjoyed the comical side of their harassment.  We went from Trento to Verona, Verona to Milano on only two bottles of wine.  We reached Lugano in the early afternoon.  Along the lake's shore we found ourselves a patch of grass where the local kids hung out talking, smoking and playing games of chess.  We relaxed with the rest of the crowd and enjoyed the sun.  We walked about the city for a few hours in search for a room but had no luck finding a vacancy.  We spent most of the evening dining and bouncing between bars and as the night began to wind down, we began searching for a place to sleep.  Just below the train station and slightly south of the trolley that headed down to the lake was a small church with what looked to be a shed with a relatively flat roof.  I persuaded Jim that we could climb up onto its roof, sleep there for the night and get a room the next day.  Jim had his sleeping bag and I had my jacket.  It was a bit cold so I was in and out of sleep all night impatiently waiting for the day to arrive.
Promote Post
Enjoyed this post?